Everybody wants to be a client of the best development companies because only they can guarantee 100% of the return on the project. But not all know where to find them and this scares them.
Recently, at Medium.com was published 15 top web development companies in the 2020 list. Top 15 the best development companies of the world were chosen based on the Clutch.co and GoodFirms rates and reviews.
We are among the best development companies!
The second place in the rating was taken by our Web Peppers development company, which provides comprehensive software, application and web development services to small, middle and enterprise businesses. We were very pleased to get into this top list.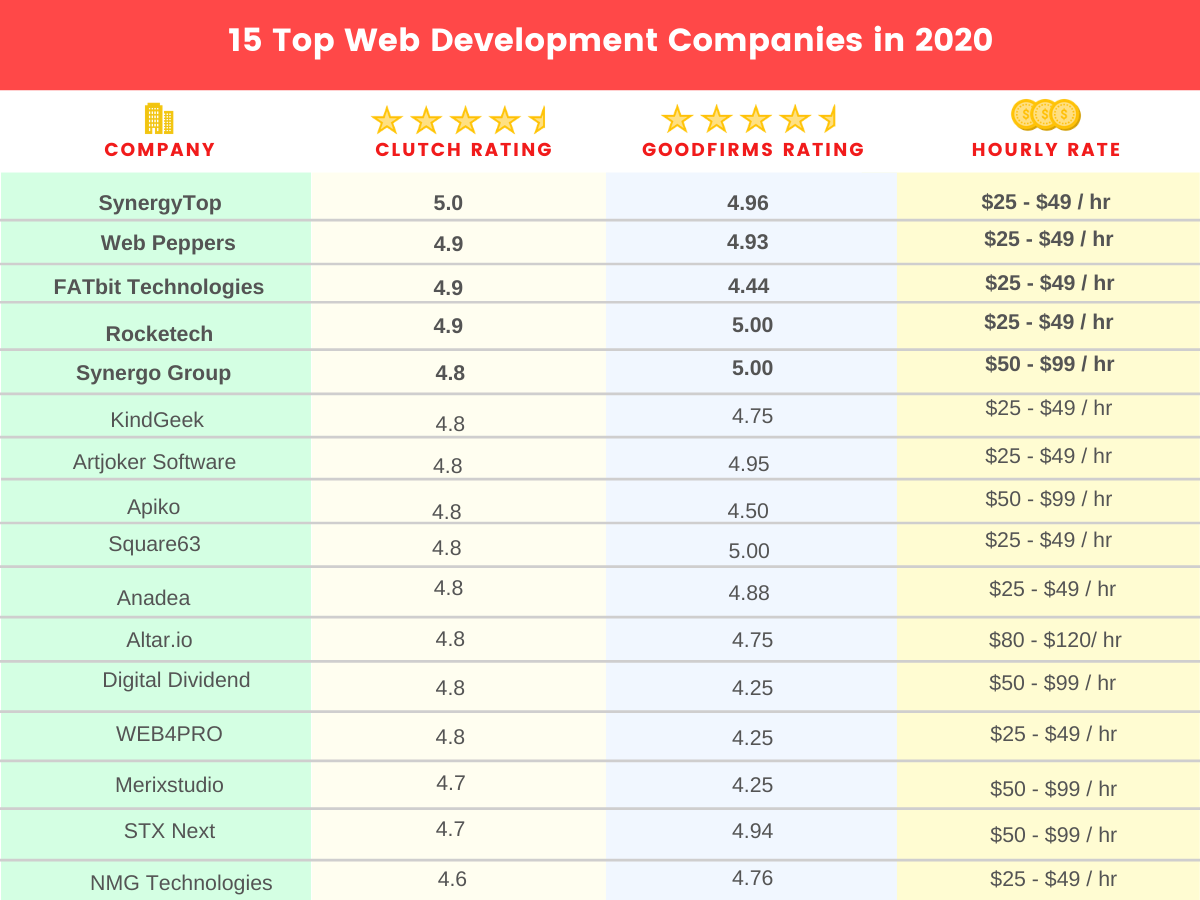 The team of Web Peppers consists of specialists with many years of experience in software, application and web development.
Clutch.com and GoodFirms – leading international outsourcing services that provide an opportunity to review outsourcing companies all over the world.
Presence of Web Peppers at such sites witness that we are worthy to be mentioned by large, middle and small businesses.
The Clutch rating of Web Peppers is 4.9, at GoodFirms – 4.93. We yield only to SynergyTop company, which rating at Clutch is 5 and GoodFirms 4.96.
Why you should hire Web Peppers development company?
The specialists of Web Peppers practice a system approach in development, comprehensively solve problems of business processes and offer rational and optimal solutions for business taking into account technical aspects of development, which helps optimize the project for the main user. The quality of work on clients' projects is ensured by our qualified staff, including DevOps engineers, designers, and QA specialists.
Outsourcing development services has become a fashionable trend in recent years. It saves entrepreneurs money, time and effort. And the main thing is to attract expert knowledge, which can guarantee the quality of work and efficiency of doing business. With a professional outsourcing team of Web Peppers, our clients don't have to worry about the result. Our professionals do everything perfectly.
Clients in the first place
Because we are dedicated to our work, there are no competitors for us. We work honestly and openly. Customer's satisfaction is our main goal, without which the project is not ready. It is very important to do everything as the client wishes. But if he is wrong, we will tell our point of view to him. We know that the best advertising is the client's recommendations. Our experience of working with clients from all over the world allows us to create projects of the highest quality.
We are proud that our work is so high assessed on Clutch.co and GoodFirms sites. This means only one – we do our work well enough to be among the leaders. Just a little bit more and we will become the best provider of development outsourcing services for clients all over the world.
We are constantly working on developing our services to provide all kinds of businesses with the highest quality products. Thanks for your trust!