At the moment, the outsourcing market shows a turnover of about 320 billion dollars. Most of it is highly qualified labor, so we can confidently say that outsourcing and offshore development companies are an extremely important part of the global economy.
Given the level of development of modern business commerce and international cooperation by companies, outsourcing certain functions to third-party firms has become extremely easy as within the borders of one country, yet around the world. Now the business is focused not on the geographical location of the partner, but on the services that he can offer.
Just for this reason, offshore development companies have become extremely popular. Today, offshore outsourcing means the transfer of a number of tasks and functions to implementing companies. Most often we are talking about the transfer of secondary tasks, but in some cases, the organization can outsource very important functions, with which it can not cope on its own.
It is used even in the activities of the largest and most famous world corporations, so there is no doubt in its effectiveness.
Offshore development company – what is it?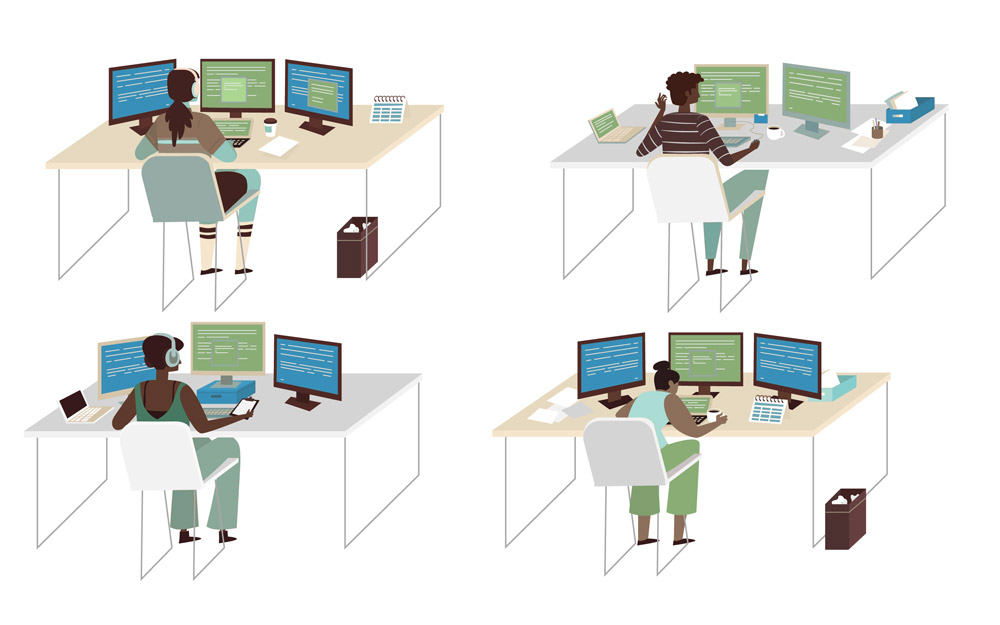 An offshore is a country or a certain region with favorable conditions for doing business, including low or no taxes, a simplified reporting form, hiding real business owners, preferential currency and customs treatment.
Outsourcing is the transfer of tasks, authorities, and functions to a third-party organization. In the sphere of offshore, outsourcing is a tool for a rational distribution of business processes as possible.
Recently, such a function transfer model is becoming more popular. A large number of both local and foreign companies attract outside specialists because they can offer a low cost for performing certain tasks. It may turn out to be much cheaper and more profitable than performing some work within the framework of a project by yourself.
Offshore outsourcing firms are registered in a low-tax or preferential jurisdiction, although this is not a requirement. For example, the largest remote services are offered by India and China, which cannot be referred to offshore. Also often the processes which are transferred to outsourcing are not critical for business. These are auxiliary procedures, operations that help to save on taxes or wages of employees.
It is quite a profitable business because the executing organization can count on a decent salary, and the company that orders services will be able to entrust complex and time-consuming processes to someone on the side. As a result, all involved persons and companies win.
Hire offshore development team in Ukraine and get completed a task on time!
What is the offshore development center?
The legislation of most modern countries allows the establishment of an offshore development center. Depending on the jurisdiction, this may involve different costs, bureaucratic delays or legal restrictions. Nevertheless, the offshore development center is a very common way to expand the structure of own organization.
An offshore development center – it is a subsidiary company specially created in another country, for example, in Ukraine. This model is very popular, especially among big companies. Some experts are sure that such an approach is more beneficial than having an in-house team of programmers.
An offshore development center is a legal entity, control over which will be provided through our Web Peppers company. The offshore development center structure, reporting, and management system are formed in accordance with the law of Ukraine. An offshore development center will be located in Kyiv.
Our Web Peppers managers can create a development team in Ukraine or gather remote programmers-freelancers if needed. We know that ODC is very popular among startups and enterprise companies so we do our work responsibly.
Offshore software development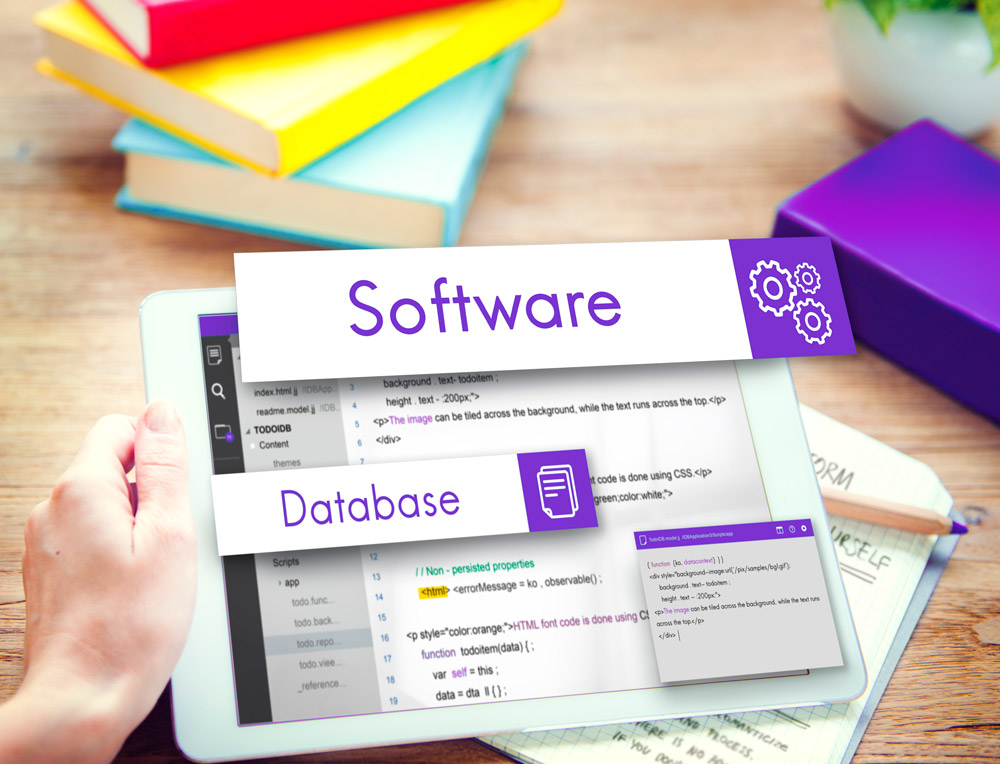 The greatest number of benefits, combined with small risks, a company gets if it outsources auxiliary processes that occupy a large volume in its structure. It is this dependence that has made China the market leader. Today, China's production is becoming more and more sophisticated while remaining available, and many of the world's largest manufacturers are establishing subsidiaries there to increase their financial "return".
The substitution of expensive internal resources for affordable external resources also concerns the "intangible" sphere – for example, one of the leading areas of offshore function transfer model remains the sphere of remote services, where qualified personnel is involved. This is software development, in which the Indian and Malaysian market offer prevails. Many western customers outsource aircraft maintenance duties, organize call-centers remotely and so on.
Offshore Software R&D and software development are relevant for Ukraine. This segment in the offshore function transfer model is growing more rapidly than others, as the demand for high-tech products is constantly growing. Programmers remotely execute orders for companies all over the world, and the outsourcing offer market is growing day by day.
Offshore development in Ukraine
Since the first decade of the 2000s Ukrainian programmers have become more confident in tightening the traditional software development industry leaders – Ireland and India. Although Ukraine accounts for more than 5% of the market, the amount of orders is constantly increasing. Big firms prefer to bring the formal side of the business to the offshore territory, for example, to Ukraine in order to cooperate more successfully, quickly with Western partners and optimize the level of profit.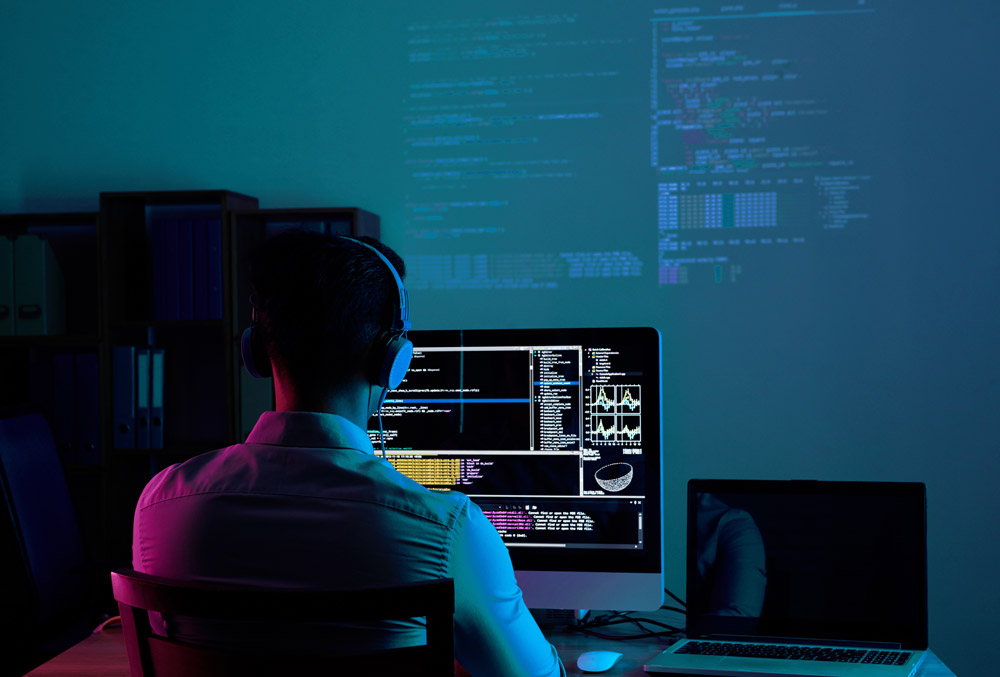 The market of offshore outsourcing is great and promising, but to use all its opportunities, staying in the legal business field, you need professional support. Experienced managers of Web Peppers outsourcing development company are ready to answer all your questions and help create a development team in Ukraine for the creation of high-quality applications.
What is the difference between the shore and offshore outsourcing?
Nearshore software development is like an offshore function transfer model. The main difference between them is the proximity between the customer and the outsourcing company. Nearshore software development means the development company is located in the same time zone as a customer organization. Such an approach helps to optimize work processes due to the cultural similarity between the customer company and the outsourcing company. For France, as an example, the best nearshoring countries are Germany and Spain. For Mexico, it is the USA.  
Onshore software development is when outsourcers located in similar to customer countries. Onshore software development is convenient, useful and can be adapted to any changes. For example, in Mexico, onshore software development is when a company from Durango state work with a contractor from Campeche state.
You can hire an offshore development team in Ukraine right now! All you need is to fulfill an application at our site and contact our specialists.
Why is offshore development outsourcing popular?
The main reason for using the offshore function transfer model is financial profitability. With its help, it is possible to minimize expenses on staff retention where the customer's business is located, as well as expenses on social security, equipment purchase, rent of premises and deployment of development. In developed countries, all this is very expensive, and the costs completely "eat" the income.
The most popular offshore countries:
China – most of the industrial outsourcing production is concentrated here;

India, Pakistan, Bangladesh, Egypt, Philippines – these countries provide IT services;

Ukraine – develop software for customers all over the world.
The benefits of working with an offshore development team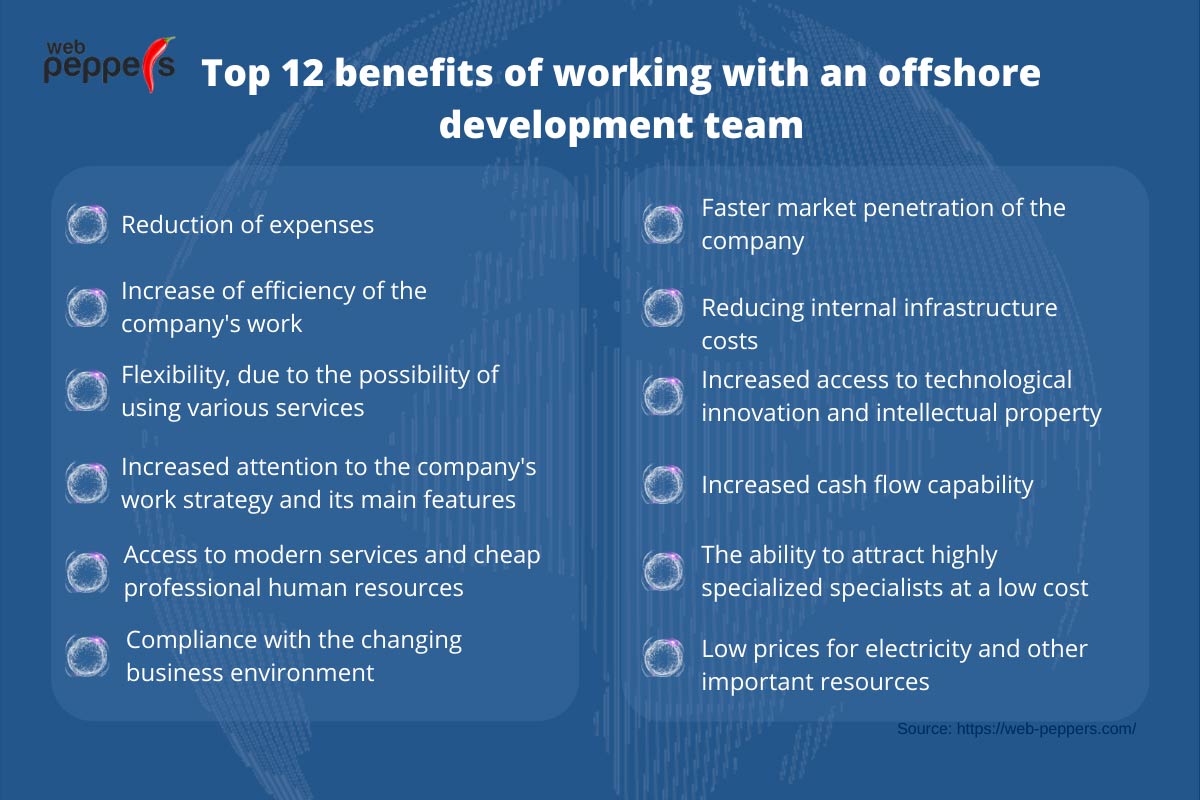 There is a significant difference in the level of remuneration of performers. Outsourcing companies are usually located in Third World countries, so the wages of local professionals are much lower than in Europe and North America.
Offshore function transfer is the best option for optimizing company expenses. It is used by many companies all around the world, including large corporations with multimillion-dollar revenues.
Firstly, offshore outsourcing is an opportunity to save the company's money due to lower salaries and lower tax rates. In addition, it can reduce production costs due to the fact that there is no need to maintain a permanent team of employees.
Secondly, it is a rational solution to the problem of implementing non-core business processes. A vivid example is ordering software.
Thirdly, with the help of offshore outsourcing, it is possible to organize the implementation of tasks requiring the involvement of unskilled labor.
Offshore outsourcing is used by the world's largest corporations, which proves its profitability and prospects. With its help, it is possible to achieve impressive cost optimization. Features of outsourcing services depend on a particular organization, but the following factors are usually attributed to the advantages of offshore outsourcing:
The main advantages of outsourcing services
Reduction of expenses.

Low tax rates for non-resident customers – taking elements of the corporate structure offshore will allow optimizing business in general;

Increase of efficiency of the company's work. Improving the quality of services provided by attracting specialists from abroad for the period required by the customer or for specific purposes;

Flexibility, due to the possibility of using various services;

Increased attention to the company's work strategy and its main features;

Using outsourcing services, the company gets access to modern services and cheap professional human resources. Differences in the salaries of actual performers, especially highly qualified ones – good personnel in developed countries are extremely expensive;

Compliance with the changing business environment;

Faster market penetration of the company;

Reducing internal infrastructure costs;

Increased access to technological innovation and intellectual property;

Increased cash flow capability;

The ability to attract highly specialized specialists at a low cost;

Low prices for electricity and other important resources.
With its help, it is possible to refuse the maintenance of permanent staff and organization of workplaces for them, which significantly reduces software development costs. Offshore outsourcing also makes it possible to easily solve the problem of performing non-core processes of the organization. The most widespread variant in the world is the order of software development. But through offshore outsourcing, it is quite possible to solve other tasks as well.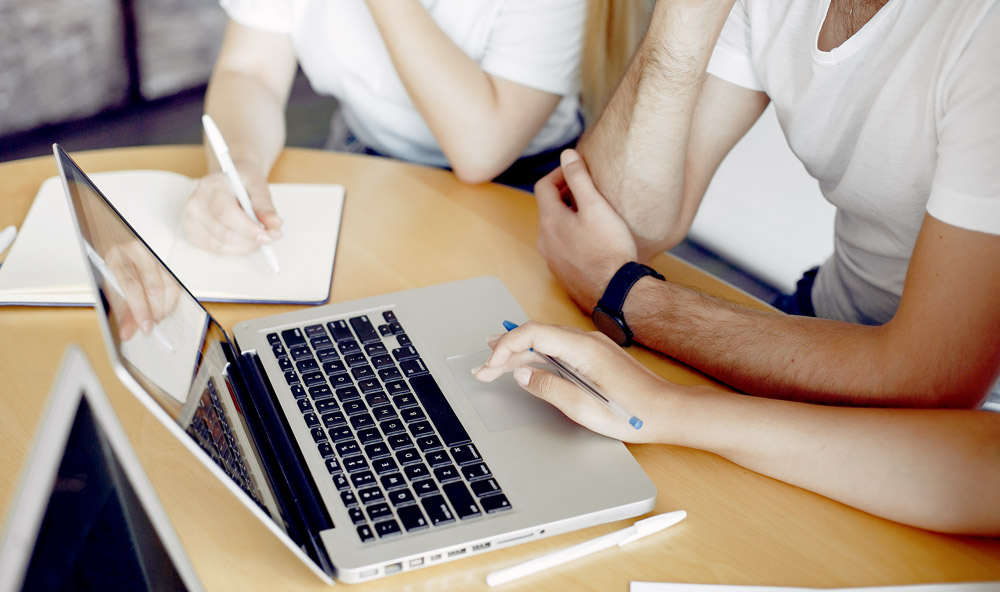 Types of offshore outsourcing
Onsite Subcontracting with Offshoring
This is the simplest type of function transfer model when the outsourcing firm places its qualified employees directly next to the client. These people become actually part of the client's team. This model is also called "staff growth". Most foreign outsourcing firms after completion of software offer project support. This function transfer model is most suited to small firms that have the terms of hiring and staffing.
Pure Offshore Projects
This model includes tasks whose scope is clearly defined and the work is separate enough to be performed by small, remote units. Examples of such outsourcing include projects transferred to small organizations, individuals, and freelancers around the world via the Internet. This model of offshoring is less common and is usually used when software components or modules are underdeveloped. The model is also adapted for innovative organizations seeking to capitalize on foreign advantages that are not mobile.
Offshoring Individual Projects
Organizations that have a well-defined outsourcing program reduce the risks of function transfer model by dividing the work into smaller and more easily managed projects that they transfer to the implementing organizations.
Global Delivery Onsite/Offshore Model
This is the classic offshore model carried out by most software development companies. They take on the projects, modules or programs of the client, create a small team on site that works with the managers and the client's team and coordinates the work with the offshore team that does most of the work. This is the most mature stage of "offshoring individual projects". For an outsourcing organization, it is a step towards increasing profits; for a client organization, it is a value-added service because their employees do not have to manage day-to-day tasks. To a large extent, performers focus on relationship management and are confident that the client will meet its obligations.
Multi-vendor Offshoring (Multisourcing)
When we discussed offshoring models, we assumed that this is a relationship between a customer and one contractor. However, in reality, the client may have many outsourcers working on the development of the software product. Organizations try to minimize the level of risks from the outsourcing strategy by creating a list of the most preferred performers, from which individual projects and managers prefer to choose and get the job.
How to choose the right offshore development company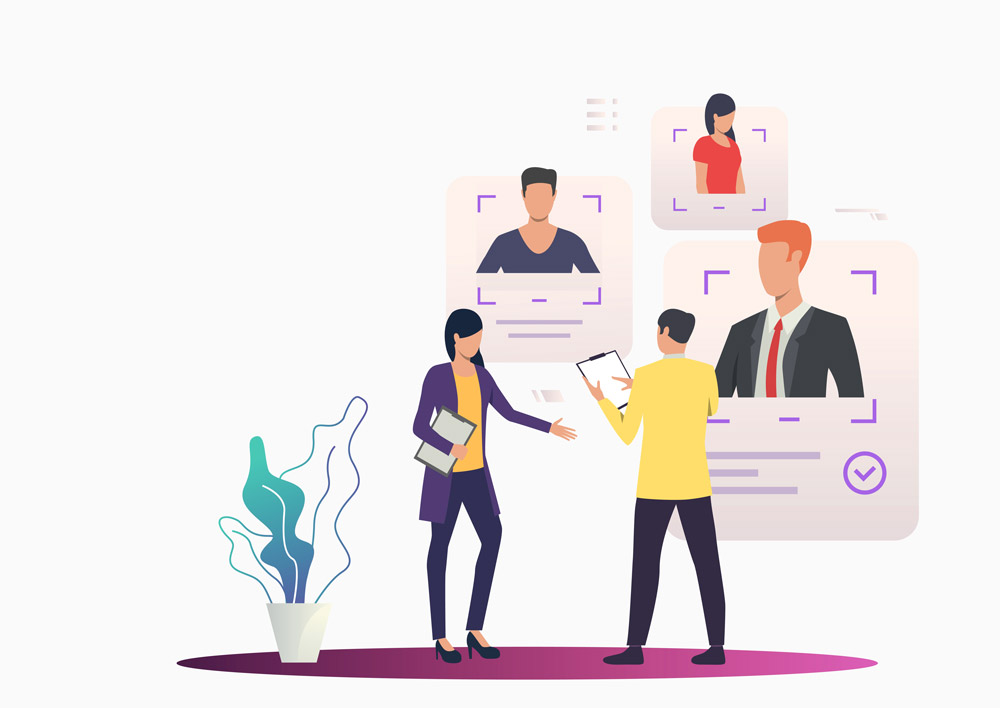 Any classic tax jurisdiction (British Virgin Islands, Belize, Seychelles, etc.) can be a place of location of a development organization. Offshore of this category are the most universal and affordable. In classical offshore jurisdictions, there is no taxation, no reporting requirements and the highest level of confidentiality. 
If the business is large enough, and there is a need to emphasize the respectability of the company, then such jurisdictions as Cyprus, the Netherlands, Malta, Luxembourg, Scotland, and the UK will be suitable. All these countries belong to low-tax European jurisdictions.
Taxes and outsourcing development
The first 4 countries work in the so-called IP Box mode. This is a preferential tax regime for IT technologies and intellectual property. Cypriot law says that 80% of the income of an IT company is tax-exempt, only 20% of the income is taxed at 12.5%.
In the Netherlands, preferential treatment is that for intellectual property products (including software) income tax is withheld at 5%. 
Corporate tax in Malta is high – 35%. But if interest or royalties are received not from the trading activities of the company, but from the ownership of intellectual property, then they relate to the so-called passive interest and royalties. In this case, it is possible to claim compensation of 5/7 of the profit tax paid on passive interest and royalty. The tax rate will be 10%. Another condition is that the shareholders must not be resident in Malta.
In Luxembourg, 80% of net income received from the use of intellectual property objects, including domain names, copyright on the software, is exempt from tax. The remaining 20% of net income is taxed at the rate of 21%, the tax will amount to 4.2% of the total income.
Salaries in Ukraine are much lower than in the USA, European countries and China. The lack of large taxes makes this country very attractive for offshore development. A lot of businesses create offshore companies in Ukraine, but much more choose this country for software development. Ukrainian programmers have already passed Ireland in the field of outsourced programming.
Tips on how to choose the right offshore development company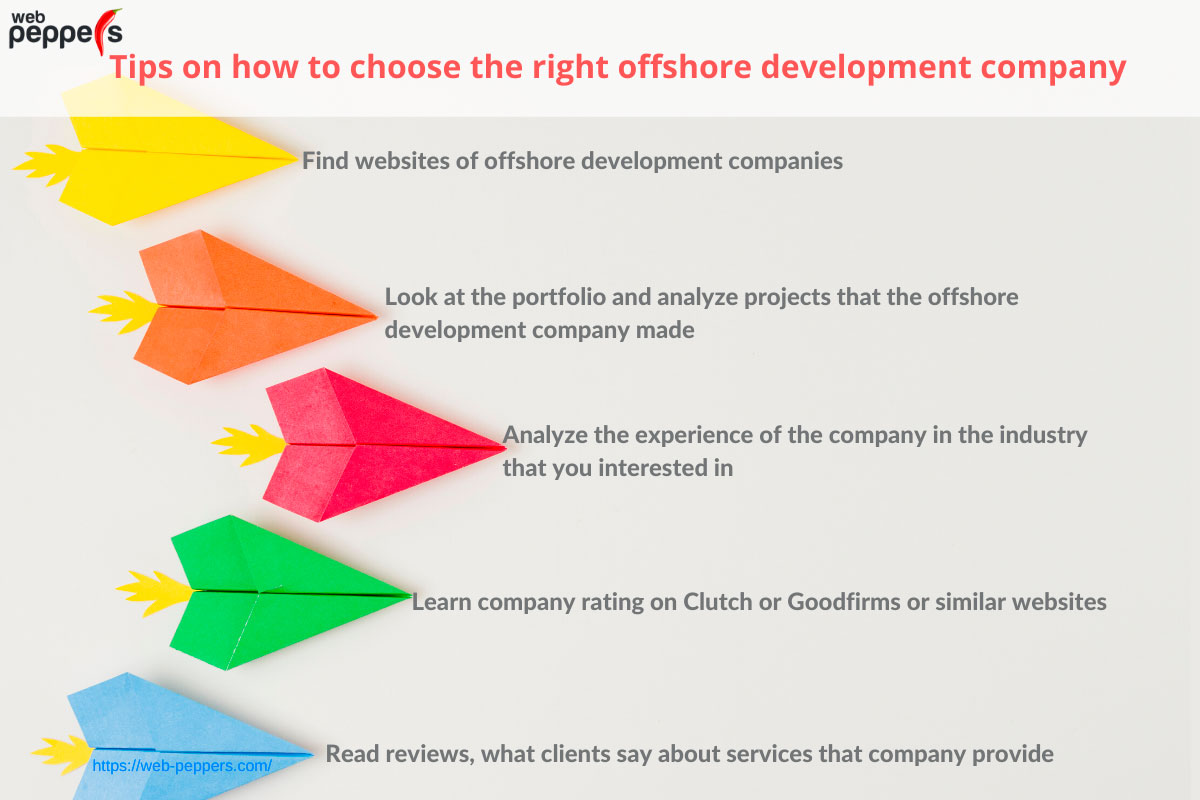 – Find out the professionalism of the programmers. Look at the portfolio – analyze with which projects they worked, which duties they performed. 
– Look at the company's portfolio to see if there are any large projects, find out what their attendance is.
– Learn how the offshore development company supports the applications if you suddenly have problems with the development, how they will solve them.
– Learn is project development iterative or not (iterative development is about doing the work in parallel with continuous analysis of the results and adjustment of previous stages of work).
What kind of web development services provide Web Peppers offshore development company
Website design and creation –  one of the most popular services customers turn to our offshore development company. The purpose of such appeals – not just to get the output of a ready and trendy resource. As a rule, the task – to create a site that will earn money. And, therefore, the approach to fulfilling the commitments can not be strictly technical.
What do clients of the Web Peppers offshore development company order? They want the site to be "beautiful", "fashionable", "so that people can see us". Quite understandable requirements. But you should understand something. 
There is no universal way to achieve success – all sites are different, in one case, the "business card" will work, in another will be enough beautiful branding, and sometimes without the development of corporate resources can not do.
On the development of the website are working a lot of specialists: the selection of the optimal engine, the search for an effective idea, its implementation, working with interfaces and mobile applications, analytics, promotion, technical support – tasks that require professionalism and clear delegation.
A beautiful picture is only a part of working strategy implementation. But it is a very important part! The first impression of the site will be obtained thanks to the external design of the resource. Our offshore development company create mobile versions of sites, lay the possibility of further redesign and improve the finished products, develop design projects that will work under all circumstances.
The website is a reflection of your business
The website is a reflection of the company. The desire to make it the best is the reason for an intense brainstorming session for the whole offshore development company. After all, before starting to implement the technical part, you need to make a description of what site you want. It can be:
a business card – with a vivid representation of the brand;

landing page – for rapid take-off;

online shop – with convenient and informative product cards and a practical interface;

corporate website – for owners of all sizes of business.
Quality CMS – .NET and Drupal, placement on WordPress, Opencart or other suitable engines, the creation of working prototypes, effective assistance in promotion, advertising, and confident technical support – the list of the benefits of the cooperation with our outsourcing company is long. Cooperation with Web Peppers offshore development company will bring you a lot of positive emotions. Hire offshore development team in Ukraine right now and discover a lot of benefits of cooperation with us!
Offshore development company – a beneficial choice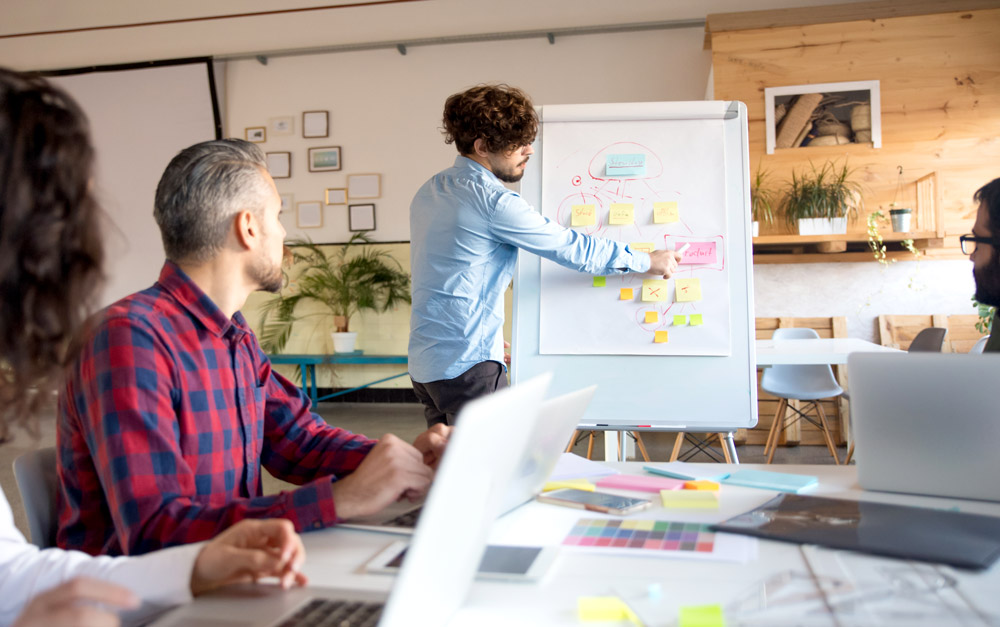 Offshore outsourcing is a useful choice of a manager who cares about cost optimization and the well-being of his organization. The world practice knows many examples when even the largest companies used the opportunities of offshore outsourcing. Sooner or later, all company executives come to it seeking to optimize costs.
The function transfer model allows improving the quality of provided services by attracting foreign specialists. The consequence of all the benefits of offshore outsourcing is profit growth and firm development. Each type of outsourcing can bring tangible benefits to the firm, but the benefits of offshore outsourcing are most evident in the software development area.
Most often companies give preference to those offshore development companies who can complete the task on time, at a minimum cost and without any delays.
It is the price-quality ratio that is paramount for most companies engaged in offshore outsourcing. It is not surprising that many companies are aggressively fighting for each client.
Usually, companies providing software development services are remote from the customer. Many offshore development companies are willing to do any work both on a one-time basis and on a permanent basis.
Outsource development  with Web Peppers
Our specialists provide for customers the most quality services. Several years of experience give us an opportunity to complete complex tasks. We know there's no limit to perfection. That is why we work even with the most difficult and complex projects. Web Peppers specialists will complete tasks that no one can complete. Hire the offshore development team in Ukraine and discover a lot of benefits of cooperation with us!
We can say that offshore outsourcing is constantly developing and in the near future, its role in the world economy will be even higher than now. It is a profitable activity for all interested parties.