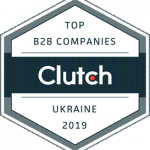 Web Peppers (Top Developers in Ukraine) is proud of our ability to provide our clients with web application building solutions and IoT solutions. Our clients are very diverse where 50% are small businesses, 30% are mid-market businesses, and 20% are enterprise businesses. As well as web development we offer services in HR consulting. We have been recently recognized on Clutch's company listings as one of the best web development companies in Kiev.
Clutch is a B2B ratings and reviews platform strategically designed to provide prospective clients with a way to compare different agencies and consultants. These reviews are organized by specific service and by geographic location. Featured below is a review from a current client, EBS Global Services. Project manager, Nadine Mansour, stated in a phone interview that we " … did everything to respond to [their] needs and ensure the value of the resource commitment".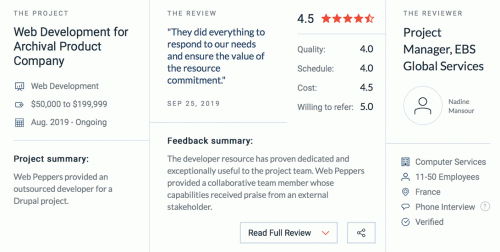 One of Clutch's sister sites includes a business blog site called The Manifest. The Manifest offers shortlists of high performing agencies for you to browse before your next project.
Web Peppers has also been featured on Visual Objects which highlights our expertise in creative work. An important factor in web development is to ensure any images are aesthetically sound.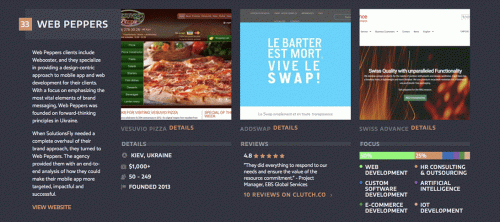 "We are honored to receive such award! We feel lucky to have worked with so many great partners that have helped our company get a position as one of the top agencies in Ukraine!" -Viacheslav Rys, CIO at Web Peppers
If you ever want more information about our company or have a question about working together on one of your future projects, find our contact information here.