Python vs PHP: which programming language is top in 2020? These daunting questions are to be answered every time we start working on our new web development project. As a leading web development company in Ukraine, we face them every time when we start negotiating with our cherished customers. Our dedicated software development team of professionals sit together and discuss it ever and again, before creating a custom software solution. So, let's try to reply to these rhetorical questions now, taking into account benefits and special aspects of both languages.
2019 is a year of feature-rich interactive websites and progressive web apps. In 2020, these and other web development trends are expected. Animations and AI technologies will be sought after. Meanwhile, our dedicated software development team unlock the power of popular, open-source frameworks, including scaffolding, third-party libraries, and templates. This way, clients' projects are completed in time and in the budget.
Quite naturally, highly-adaptive RESTful APIs, as well as cross-platform libraries streamlined web development. However, the old question remains acute for all web developers, managers, and clients, bitterly dividing and polarizing them.
Python vs PHP: Which Language to Select for Professional Web Development?
Being a beginner or a budding startupper, majoring in custom web apps creation, you definitely pose this question. Actually, both these web development languages are the most popular choices. They are usually selected by businesses and developers due to great community support and beneficial pricing.
Facing this important selection, beginners might be puzzled. They need to study programming constructs, implement them properly and have sufficient expertise in syntax. Alternatively, seasoned web developers have already made their choices.
Their bias and preferences should not disorient you. Thus, when you start talking to a programmer from our dedicated software development team, he describes multiple benefits of Python, its readability, speed, and productivity.
Meanwhile, contacting an experienced PHP developer, he tells you about the multiple advantages of this language at great length.
So, as every programmer knows pros and cons of the languages he uses, don't try to consult any professional on this issue. Try not to mention it at all. Read this blog instead, to get a deep insight into their benefits in terms of 3 main aspects of comparison.
Hire our experienced, hand-picked, well-balanced, dedicated software development team from Web Peppers.
Now, let's consider 3 main areas of comparison, in terms of Python and PHP
1. Frameworks and CMS
Everybody knows that a framework is a set of libraries that facilitate the creation of various task-oriented software solutions. Community support and available modules help web developers create unique web applications. It's faster and more affordable than building a website from scratch. So, using a framework, our professionals easily add the necessary functionality, according to their requirements.
Python is a great programming language that is:
high-level;
object-oriented;
robust;
well-designed;
perfectly readable.
It offers a set of versatile and powerful frameworks. Flask and Django are definitely the most popular. Their popularity, the number of frameworks and users is increasing, as the language is widely used in multiple projects. However, the options of Python frameworks are still limited. They perform the same role as PHP frameworks commonly do.
Elaborating on a PHP project, developers have numerous libraries and frameworks at hand. They help professionals to build full-fledged web and mobile applications at a brisk pace. Laravel and Symfony are considered to be the most popular PHP frameworks as of 2019, which offer extensive documentation. They are supported by millions of mature enthusiastic professionals that contribute their models and templates to the libraries.
CMS
Taking into account content management systems that enable you to publish and manage your website content, PHP is a runaway winner. PHP-based CMS are comprehensive and multipurpose. For example, WordPress lets you insert your unique texts, change them when necessary, using various templates or themes. This system lets you keep your blog or manage your corporate portal easily, even if you have no programming experience at all.
Using Magento or WooCommerce that are built in PHP, you manage your e-commerce store, focusing on business needs rather than on programming necessities. Python offers some Django-powered e-commerce systems, such as Oscar or Cartridge. But their number and functionality are limited.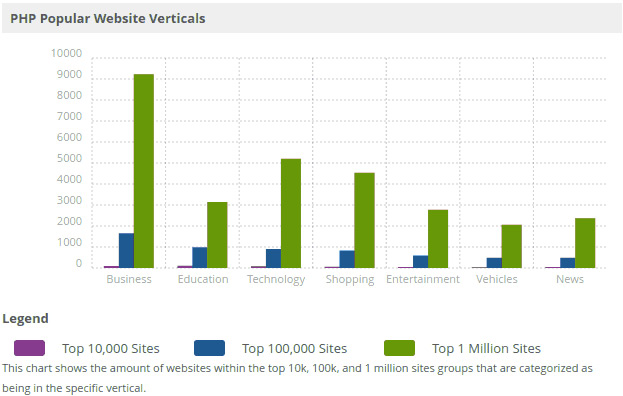 2. Popularity
Which language is more popular: Python vs PHP? Initiating a new web development project, clients and project managers consider both of them for sure. Actually, PHP dominates the Internet at the moment. It powers 80% of websites, including Yahoo, Flickr, and Wikipedia.
Facebook that is known as the largest existing social network service, was initially coded in PHP. Nowadays, it offers a powerful SDK library to all concerned web developers. Now, Facebook can be called a full-fledged PHP framework, incorporating all features and templates necessary for professional PHP web development.
Python as a programming language got its popularity when programmers at Google selected it for building their well-known applications. Since then, it's used in a number of their prominent platforms, including Instagram, Spotify, Reddit, YouTube, and Pinterest.
So, both languages are incredibly popular now. Each of them is used for a lot of amazing projects. Does this information help you to make a decision? It might be not sufficient yet.
3. Learning Curve
PHP is a great programming language. It's:
open-source;
easy to read and edit;
simple;
interpreted;
platform-independent.
It can be run on any platform, such as Windows, Linux or MC OS X. However, PHP is not perfect in terms of security. This language doesn't fit large and complex applications.
Per contra, Python is more versatile and flexible than PHP. Its syntax is simple and readable. That is to add certain functionality, you need to code 100 lines in Python or about 600 lines in PHP. Python is preferable for mobile web development that is going to become mainstream in 2020.
So, to become fluent in using programming tools and syntax, Python is preferable for sure. This language is beginner-friendly, easy to understand. It's fun to use, as it has some room for mistakes. The code never breaks due to small formatting imperfections. Only a few debugging tools are required, and they are commonly available in the basic Python downloader package.
PHP is not designed for beginners. New users would find it too tough and boring. The language has strict regulations and rules. Open to a wide community, these modules and templates, often have bugs in source code. These bugs are difficult to fix, and they would keep the application from running.
Therefore, multiple computer science schools select Python as a basic language to study programming. It's considered to be strong and beginner-friendly. On the contrary, experienced PHP developers try to make their favorite language easier to understand, more intuitive. Multiple video PHP courses and tutorials are available online.
Bottom Line – Python vs PHP
Are you going to become a web developer? The selection of your first programming language might become a daunting task. Both languages are worth your efforts. Each of them can gain your attention, being popular and easy-to-use. Coming with great community support, both PHP and Python offer a lot of learning tools that help beginners to train their basic coding skills and succeed.
So, we would recommend you to weigh the pros and cons. Starting your new web development project, you see, which one suits its requirements the best. Finally, PHP is better in terms of carrier opportunities and technical support. Python is easier to master and use. So, going to hire a dedicated software development team, incorporating Python developers and PHP developers, please, contact Web Peppers. Working in Ukraine, Hungary, and Lithuania, serving customers from all over the world, we create a perfect web solution at a competitive cost, producing excellent results at tough deadlines.
Example of project that has been developed on PHP – Coloring pages online Mimi Panda